The technology and development capabilities that we have accumulated in the field of writing instruments will spread to a wide range of fields such as "medical care," "electronics," "automobiles," and "cosmetics."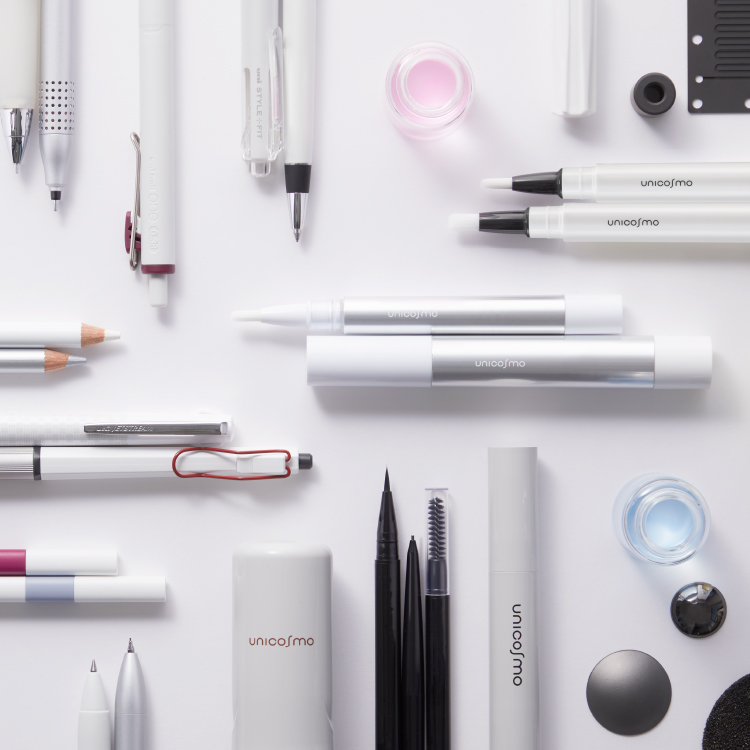 From writing instruments to new fields
Mitsubishi Pencil that opens up the future
Writing Instrument Business
What has evolved writing instruments is our unique idea and technology, which has continued to "innovate" technology by science of "writing". Because we are a company that has been manufacturing sincerely for many years, our base is "responsibility for quality", "focus on safety and security", and "consideration for the environment".
Pencils and Colored Pencils

We offer a broad range of wooden pencils, from entry models to premium products such as "Hi-uni" and "uni" series, targeting a wide spectrum of end user from school children to professionals.
Water-Based Ink Roller Balls

(Water-Based Ink) Roller Balls - An innovative product developed in Japan,roller ball pens are ballpoint pens that use water-based inks. By shifting from the previously used plastic tips to metal tips,Mitsubishi Pencil has been successful in expanding the market for this type of product very quickly.
Oil-Based Ballpoint Pens

Oil-Based Ballpoint Pens?Products in this categor y include "JETSTREAM" pens, which offer the smoothest writing experience in the world, "uni POWER TANK" pens with pressurized refills that provide the ability to write in situations where normal bal lpoint pens do not perform.
Mechanical Pencils and Refill Leads

We offer a wide range of mechanical pencils including "KURU-TOGA" which rotates the lead to maintain a sharpened tip, "uni Alpha- Gel" which features a soft comfort grip that is ergonomic for the fingers, especially designed for the construction industry.
Felt-Tip Pens and Markers

Innovative marker products offered by the company featuring pigment ink comprise of "POSCA", "PROCKEY" that can write on various surfaces, and "PROPUS WINDOW" which features a transparent pen tip.
School supplies

To appeal to the younger student audience, we proactively obtained licensing rights to cartoon character images that we have incorporated into such products as pencils, pencil cases, and stationery sets.
Industrial Materials Business
The Industrial Materials business group takes advantage of the core technological competences to expand our business to a variety of segments. The basic technologies are "Dispersion Technology" used in manufacture of highly specialized inks used for ballpoint and sign pens, and "FiringTechnology" mainly used in our high performing mechanical pencils and pencil leads. Also, we are specialists in fine machining and container design. We are happy to introduce our competences in those fields.

Cosmetics Business
Mitsubishi Pencil established its cosmetics business, Unicosmo Corporation, Ltd., in 1985. This company supplies cosmetics products on an OEM basis, and primarily pen-type products.Unicosmo leverages Mitsubishi Pencil's expertise in writing instrument technology to carry out the entire production process in-house, from the design of cosmetics dispensers through the development, manufacture, and insertion of cosmetics liquids into the dispensers.As a result, the company can respond precisely to customers' requirements for containers as well as finished products.